BCOC2014 Middle Distance Standard
September 6th 2014 9:00am - 12:00pm
Organizers: Toni Kitto (Course Planner), Chris Bullock (Course Planner), Jakub Sumbera (Course Planner), Jim Webster (Event Director), Jane R (Controller), Ron Monk (Controller)
Event Schedule
Date
Time
Activity
Nearest City
Map
Fri., Sept, 5th
14:00 - 20:00
Registration Centre Opens
Invermere, BC
Fri., Sept, 5th
TBA
Model Event (pending)
Invermere, BC
Sat., Sept, 6th
9:00 AM
Middle Distance
Invermere, BC
New 2014 - 10:000
Sat., Sept, 6th
3:30 PM
Sprint Distance
Kimberley, BC
New 2014 - 1:5000
Sat., Sept, 6th
6:30 PM
Banquet & Day 1 Awards
Kimberley, BC
Sun., Sept. 7th
10:00 AM
Long Distance
Cranbrook, BC
Updated 2014 -
1:10,000 & 1:15,000
Sun., Sept. 7th
1:30 PM
Day 2 Awards
Cranbrook, BC
Middle Event - September 6th, Invermere
Location and Driving Directions
The BC Championships middle distance event will be held on a new map near Invermere, BC, in the beautiful Columbia Valley, nestled between the Rocky Mountains and Purcells. Invermere is 3 hours west of Calgary, 5.5 hours from Kamloops , and 5 hours from Spokane, WA.
The event will be held 5km west of Invermere off Toby Creek Road on the way to the Panorama Ski Resort. Turn off Highway 93 at the traffic lights, drive down the hill, cross the Columbia River, and then turn right on Panorama Road. Look for the orienteering flags directing you to the competition centre for the Lillian Lake area.
Terrain and Map Notes
The Lillian Lake area is located next to the spectacular Toby Creek canyon in open Douglas-fir forest and grassland typical of the Columbia Valley. Rolling hills and terraces, deep creek valleys, and a scattering of complex rocky knolls, boulders and small cliffs characterize the area. Its fast open terrain, with patches of more dense forest on north-facing slopes. A network of trails and old roads criss-crosses the area. Mapped at a scale of 1:10,000 by Bryan Chubb in 2013/14, it's excellent orienteering terrain!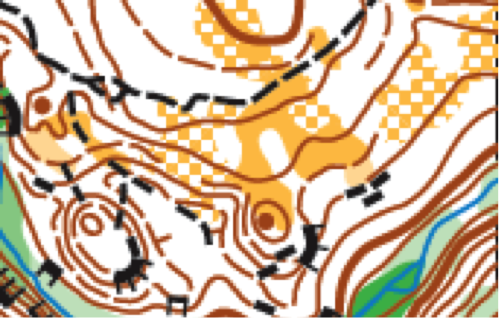 Lillian Lake is a popular mountain biking destination, so you may see bikers on the trail. Its safest and best to give bikers the right of way, so they don't have to leave the trail. Also watch for black bears and deer, which may also use the area.
Much of the Lillian Lake area was selectively thinned in 2013, but this has generally not affected the mapping of vegetation boundaries - it has simply made the forest more open. Some areas of forest openings may not be as distinct as they were when mapped.
Parking, Start and Finish
Parking will be off the Toby Creek Road, with short walks to the start and finish areas. Look for the orienteering flags about 5km west of Invermere. Parking spots may be limited depending on the number of participants, so car-pooling is advised.
Registration and Start Times
Registration packages may be picked up in Invermere after 2:00 PM on Friday September 5 (location TBA), or at the event site after 8:00 AM on Saturday morning September 6. Start time is 9:00 AM. Courses close at 11:30 AM. Start lists will be posted at registration.
Model Event
Depending on interest and terrain availability we may host a model event on Friday afternoon, on a small sliver of the Lillian Lake map. Look for updates on the event website.
If you want to get out for a short walk, jog or run on unmapped terrain similar to Lillian Lake, go to the "Kloosifier" mountain biking area just over 3km up from the Panorama Drive intersection. Park off the right side of Toby Creek Road in the designated parking area, cross the road and follow the bike trail signs.
Safety
The safety bearing for the middle event is Northwest to the Toby Creek Road.
Toby Creek canyon forms the Southeast boundary of the map. Stay away from the cliff edges, and take care when running along trails beside the canyon - its a long and very steep drop to the creek!
Black bears and deer have sometimes been spotted in the area; watch for them and give them plenty of room. If you encounter a bear, stop running, and back away slowly. Use your whistle if you need help or if the bear becomes aggressive.
Give bike riders the right of way on the narrow single tracks - its easier for you to get off the trail, than force the biker off the track and into the trees.
Meet Officials
Meet Director and Controller: Juri Peepre
Course Setter: Jakub Sumbera
Mapper: Bryan Chubb
Accommodation
There are several camping options for the Friday night:
Lakeshore Resort and Campground, about 5km south of Windermere, on Windermere Lake.
http://www.lakeshoreresortcampground.com/
The closest BC provincial park campground is at Dry Gulch, first-come-first- served, no showers, basic but pleasant site, a few kms south of Radium.
http://www.env.gov.bc.ca/bcparks/explore/parkpgs/dry_gulch/
Redstreak Campground with full services is located near Radium in Kootenay National Park, and a few minutes from Radium Hot springs, with pools and showers.
http://www.pc.gc.ca/eng/pn-np/bc/kootenay/activ/camping/redstreak.aspx
Fairmont Hot Springs Resort south of Invermere, has camping, pools and showers.
http://www.fairmonthotsprings.com/the-resort/overview
Hotels and motels include:
Super 8 at the Invermere turn-off on Highway 93.
Best Western in Invermere
Lots of other choices too....from cheaper to more expensive. Check out www.booking.com
---