North Star Ski-O - Kimberley Ski O
March 10th 2018 9:00am
Organizers: Wakana Heilman (Organizer), Toni Kitto (Assistant), Ron Monk (Membership), John Chatwin (Assistant)
Kimberley Nordic Centre, March 10, 2018 (Saturday)
The Kootenay Orienteering Club is excited to team up with the Kimberley Nordic Club to host a ski-orienteering race on March 10th, 2018 at the Kimberley Nordic Center. Ski orienteering is a chance to test both your skiing and navigating skills as you choose your route between checkpoints. The Kimberley Nordic Center is an ideal venue for this event with numerous trail options within a small area that range from double track classic & skate trails to single track classic. This is a fun event for all ages and skill levels for both individual and team entries including a special category for families. The course will be marked on a 1:10,000 scale map specially prepared for this event where participants use electronic punch keys to log their progress around the course. Instruction will be provided to beginners prior to the race.
Race registration/check-in is 9:00 AM - 9:45 AM and the race starts 10:00 AM.
Please pre-register to smooth the registration on the race day.
Host: Kootenay Orienteering Club (KOC) affiliated with Orienteering Canada (OC)
Race Format: Point to Point Ski-Orienteering. All controls points are located along ski trails and must be visited in order.
Race Categories:
Long Distance / moderate elevation change: 11 ~ 12 km
Medium Distance / moderate elevation change: 5 ~ 6 km
Short Distance / little elevation change : 3.0 km ( perfect for families with young children)
Fees:
Members and membership refers to being a 2018 member of the Kootenay Orienteering Club or another club affiliated with Orienteering Canada. In addition to the fees listed below you must also hold a pass to the Kimberley Nordic Club or pay $13 for a day pass at the trails Kiosk.
Individual Entry Fee:
• $5 per entry (2018 members)
• $10 per entry (non-members) includes 2018 membership
Family/Team Entry Fee*:
* Applies to a family or team skiing together as one group
• $15 per team / family
plus: $5 person/KOC membership fee for non-2018 members
No payment required until March 10th between 9:00 AM & 9:45 AM .
Thank you for pre-registering.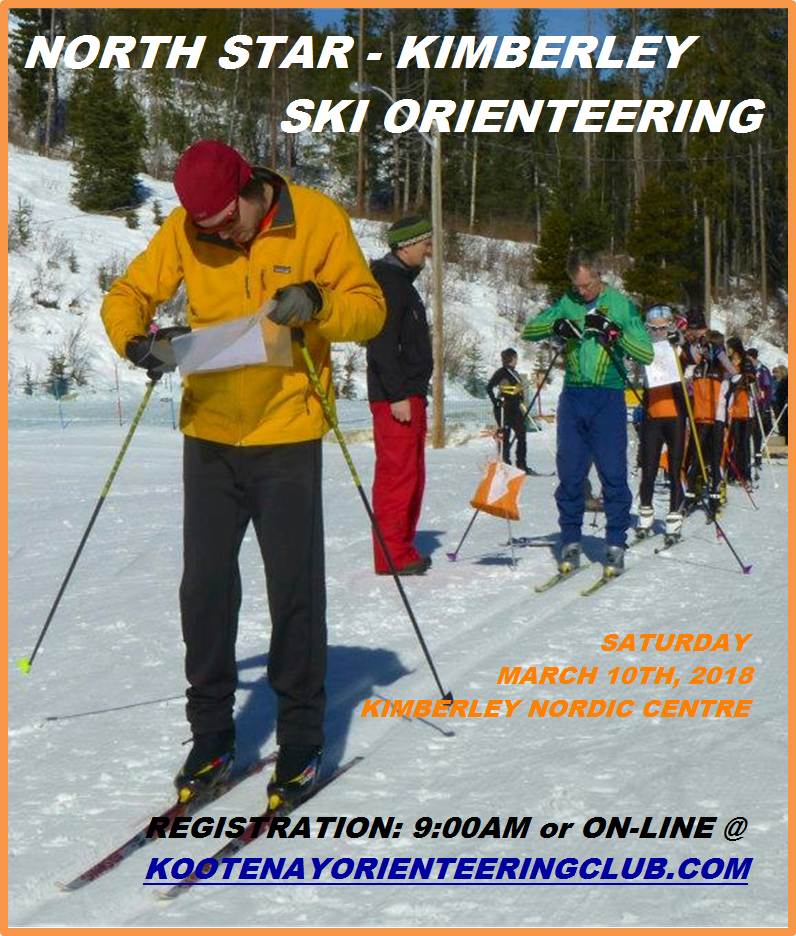 ---
Location